spray painting line for golf
A rod loaded with multiple balls on chain conveyor by automatic spraying, then dry up in accurate temperature oven. Operator only need to handle product load/unload then the painting job will be done automatically on conveyor system. Painting line is not dedicated to christmas ball but also compatible with other small products for same workflow requirement.
General workflow for painting line: load -> manual de-dust -> pre-heat -> electrostatic de-dust -> spray base painting -> drying -> vacuum plating -> spray top painting -> drying -> unload
There different paints used for christmas ball painting, above flow is used for metal effect purpose and best for uv coating. If no uv required, just regular painting will work. The spraying line can be custom designed according to client side requirement.
Painting line main properties
Special rod axis chain, one jig per 30cm

Servo motor and moving guide for spray painting machine, touch screen accurate control

Stainless steel oven chamber reflector, rockwool board for heat saving. Heater is programming control for smooth power supply.
Advantages
Widely application for high quality and high efficient spray painting

Digital control with up to 200 different products programming in memory for quick use

Ease of use for low cost operation

Automatic trace painting with no dead angle
Spray painting line drawing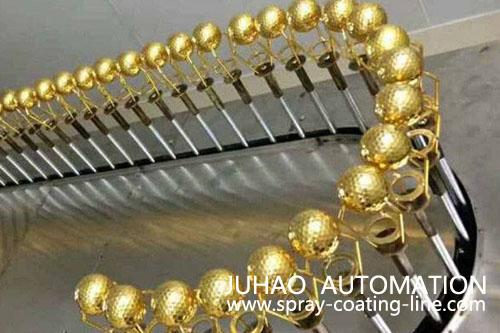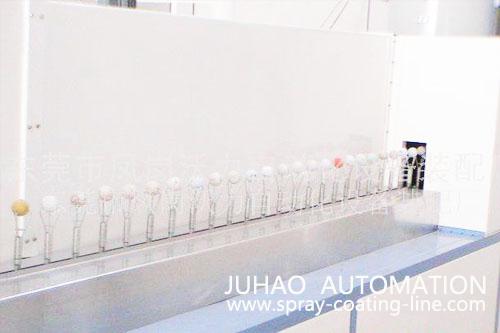 What do I need aware during operation?
We will send out technicians for onsite installation and provide up to 30 days training service till you can operate the system properly.
What're the spare parts for spray painting line for golf ?
Heating pipes, lamps and filters should be checked regularly and replace in time in case any problem.
How much time for producing?
This depends the overall line size and customer requirements. Normally it takes 30~60 days producing in factory.