automatic spray coating line can be setup in different coating purpose such as single layer, two and three layers plus UV curing etc. It can be also setup for specific paint spraying such as rubber paint, water based paint and PU etc.
Spray coating line workflow: Load -> electrostatic de-dust -> automatic spraying -> drying (process can be replicated for multi layers coating)
Coating line setup parameters:
Conveyor speed: 0-8 m/min.
Rotation speed: 10-200 r/min.
Spray gun2-12pcs
Spray method: gun fixed conveyor or reciprocator or robotic spraying
Spray booth: water or dry filter based booth with detectable fresh air supply.
Oven: sandwitch board chamber with in flared heater, SRC control
Control: PLC and touch screen programming control, trace on conveyor automatic spraying for paint saving.
Advantages: fast spraying and smooth film thickness. Spray at different angles by only one time configuration.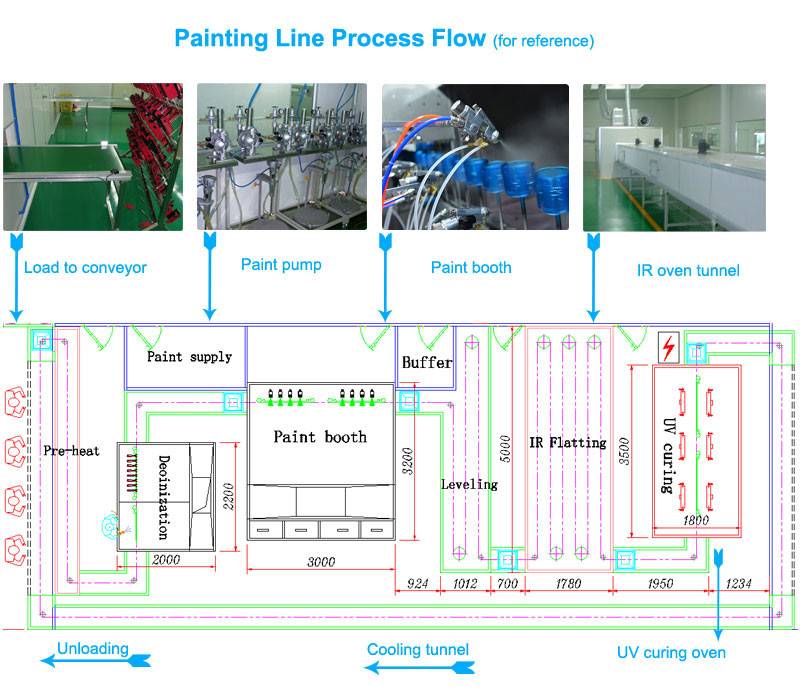 How is uv coating applied?
UV is always the final process on painting line structure. There're base and top coat to be sprayed before UV. The purpose of UV is to provide smooth feel and clear light on surface.
What kind of product is suitable for uv coating?
Any product which requires clear light surface effect.
What do I need aware during operation?
We will send out technicians for onsite installation and provide up to 30 days training service till you can operate the system properly.
What're the spare parts for uv coating line?
Heating pipes, UV lamps and filters should be checked regularly and replace in time in case any problem.
How much time for producing?
This depends the overall line size and customer requirements. Normally it takes 30~60 days producing in factory.